Bentley Wildfowl and Motor Museum
The Bentley Wildfowl and Motor Museum is a family friendly attraction in East Sussex. It consists of a motor museum, a wildfowl reserve with one of the finest private bird collections, miniature railway, woodland, gardens, shop, restaurant and more - there is something for just about all ages and interests. The site also hosts various special events and activities that make a visit to this fantastic place even more enjoyable and exciting.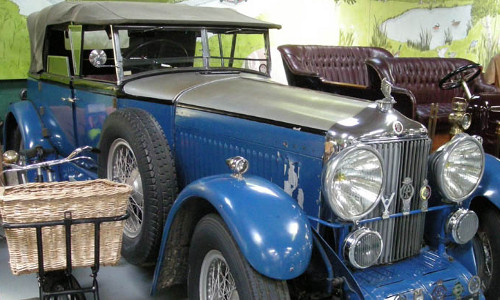 The Collection
The Bentley Motor Museum houses some of the most spectacular classic cars but its visitors can also enjoy a splendid collection of vintage motorcycles, bicycles and other vehicles with an emphasis on the 20th century. The Museum doesn't have a permanent collection but instead, displays vehicles of private collectors who want their classics to be seen and admired by the wider public. Cars and other pieces in the Motor Museum are therefore subject to change. But then again, there is always something new to see.
Other Attractions and Activities
As mentioned above, the site is also home to a wealth of other attractions that make it an ideal day out for the entire family. Visitors of the Bentley Wildfowl and Motor Museum can also enjoy a wildfowl reserve which is home to approximately 2,500 birds from over 100 species from all over the world. Then there is also the Miniature Railway, House & Gardens, a restaurant, shop and a wealth of things to do including feeding the birds, unveiling the beauty of the ancient houses while enjoying fresh air in the woodland, and more.
Special Events
A number of special events take place here from spring to autumn, while the most famous and most visited is the annual WoodFair. Held every September since 2006, the event includes various fun and educational activities, exhibitions, vendors of forestry products, arts&crafts stalls and more.
Opening Times and Admission
The Bentley Wildfowl and Motor Museum is open from late March to late October from 10am to 5pm. Please note that the Miniature Railway operates on selected days only. Entry is £8 for adults and £6 for children. Family ticket is £26. Miniature Railway is charged an extra £1 per person.
Location
The Bentley Wildfowl and Motor Museum is located near Halland in South Sussex, approximately 1 3/4 to 2 hour drive from London.