Brooklands Museum
The Brooklands Museum is a very special place for motor enthusiasts not only due to the Museum's fantastic collection but also due to its location. It is located on the site that is considered the cradle of the UK motorsports and played a very important role in British aviation history as well as a number of technological and engineering breakthroughs. In a way, the Museum is just an additional attraction of its location.
History of the Museum and Its Location
Location makes a visit to the Museum a unique experience. As mentioned above, the Museum grounds is the birthplace of motorsports in Britain and a place of major importance for aviation, technology and engineering. It was here where Hugh F. Locke King built the UK's first racing circuit in 1907, while the site also saw a number of records and firsts when it comes to both motorsports and aviation. The Brooklands Museum was open here in 1987 not only to display Brooklands-related artefacts but also to safeguard the site's rich history and provide a unique insight into the motorsports and aviation achievements of the 20th century.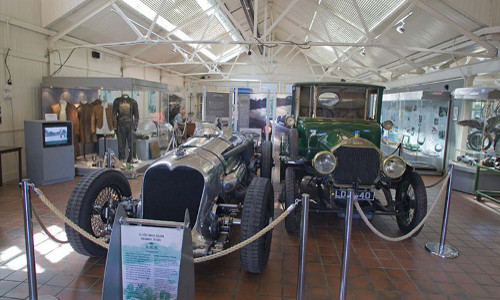 The Collection
Visitors of the Brooklands Museum can admire a wide range of vehicles including racing cars, motorcycles, coaches and bicycles, the majority of which are related to the site in one way or another. The Museum is also home to a fabulous aviation collection which among other civil and military aircraft also includes a Concorde.
Other Attractions
In addition to the Museum and the surviving structures/buildings such as the 1907 Clubhouse, Members' Hill Restaurant and the 1911 Ticket Office (the original circuit, unfortunately, no longer exists), visitors of Brooklands can also visit the London Bus Museum. It moved to the site in 2011 and displays over 30 historic buses - with the oldest ones dating back to the 19th century - and related memorabilia.
The Museum also regularly organises various special events. Dates and details are published at least several days in advance on the Museum's official website.
Opening Times and Admission
The Museum is open throughout the year with the exception of Christmas holidays. Its collection can be visited every day from 10am to 5pm during the summer season and until 4pm during the winter season. The admission is £11 for adults and £6 for children.
Location
The Brooklands Museum and related attractions are located at Weybridge, Surrey, about one hour drive from London via A3.