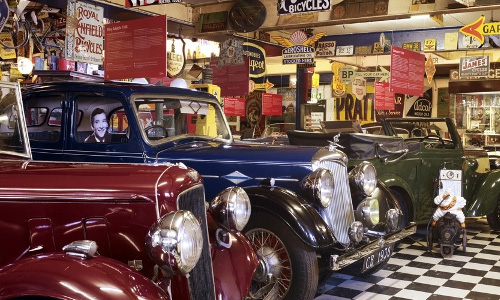 Cotswold Motoring Museum
The Cotswold Motoring Museum is a very popular motoring museum, especially with kids - including the big ones. Covering the 20th century motoring history and being home to the famous Brum, the award-winning Museum is located in the beautiful village of Bourton-on-the-Water which is an attraction of its own with its picturesque landscape, splendid architecture and charming bridges crossing the River Windrush that runs through the centre of the village.
History of the Museum
History of the Museum dates back to the late 1970s, more precisely to 1978 when it was launched by motoring enthusiast and collector Mike Cavanagh. He ran the Museum for 20 years; in 1999 Mr. Cavanagh sold the Museum with its collection to the Civil Service Motoring Association (CMSA) Club which has been improving and expanding the collection ever since. The new owner also renovated the museum building, a former 18th century mill and grade-two listed building, and built a new gallery to house the continuously growing collection of cars and other vehicles and related memorabilia.
The Collection
The Museum's collection includes an impressive selection of cars, caravans, motorcycles and bicycles and related memorabilia, all from the 20th century. Visitors of the Museum, especially the youngest ones, however, also enjoy its collection of toys including toy cars, pedal cars, buses, aircraft, model kits and more. However, the Museum is perhaps best known as the home of the famous Brum and as a background of the opening and closing sequences of the popular children's TV series.
Attractions and Things to Do Nearby
Many people, especially those who don't live nearby Bourton-on-the-Water like to combine visit to the Cotswold Motoring Museum with visiting the nearby attractions. And these are plentiful. As mentioned earlier, the Museum is situated in the beautiful village of Bourton-on-the-Water which is a delight to walk through. There are also many fine restaurants and lunch spots offering a spectacular view of the village and the breathtaking Cotswold landscape, while kids also love the Birdland Park and Gardens. The latter has a beautiful collection of birds which among other species also includes penguins.
Opening Times and Admission
The Cotswold Motoring Museum is open daily from 10am to 6pm from mid-February to mid-December. Admission is £5.25 for adults and £3.75 for kids. Family ticket (2 adults + 2 children) is £16.50.
Location
The Museum is located in the heart of Bourton-on-the-Water in the Cotswolds Area, about 2 hour drive from London.