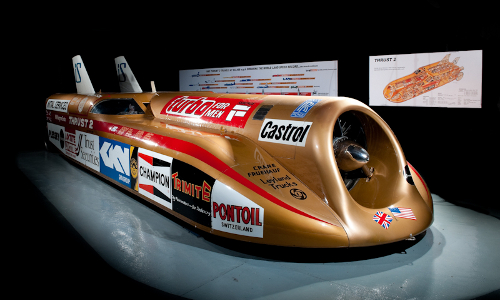 Coventry Transport Museum
The Coventry Transport Museum is one of the largest motor museums in the entire UK. Located in Coventry, the former centre of the British automotive industry, the Museum is home to a collection of over 200 cars, trucks and commercial transport vehicles, more than 100 motorcycles, 200 bicycles and an estimated 1 million of transport related archives, memorabilia and collectibles, some of which date back to the Victorian era.
History of the Coventry Transport Museum
Today's Museum opened its doors in 1980 but its history can be traced back to the 1930s when the City of Coventry acquired Samuel Bartleet's bicycle collection through donation. Over the following years, the collection was added new artefacts but it came to include cars only in the early 1950s. In 1960, the Museum held its first large-scale public exhibition in the Herbert Art Gallery and Museum that opened in the same year.
Due to the continuously growing collection, the Herbert Art Gallery and Museum soon became too small to display all vehicles. What is more, it became impossible to keep all items at a single location. As a result, the Museum was forced to keep its precious cars, motorcycles and other artefacts at various locations in Coventry. Fortunately, they have all been under the same roof since 1980 when the Museum moved out of the Herbert Art Gallery and Museum moved into the current building.
The Collection
The Coventry Transport Museum has one of the most spectacular vehicle collections in Britain and according to many, one of the best of its kind in the world. It includes all the greatest classics and some of the most legendary vehicles ever built, while the Museum visitors can also see more than 200 bicycles and over 100 motorcycles as well as countless automobilia and related artefacts.
Special Events
Each year, the Museum organises the Coventry Festival of Motoring which is held at Stoneleigh Park at the time of the August Bank Holiday weekend. The two-day festival attracts tens of thousands of visitors who enjoy a wealth of motor related events such as the Historic Vehicle Run which involves hundreds of classic cars and motorcycles.
Opening Times and Admission
The Museum is open 7 days a week and 365 days a year with the exception of Christmas holidays (from 24th to 26th December) and 1st January. The collections can be visited every day from 10am to 5pm. Entry to the Museum is free.
Location
The Museum is located in the city centre of Coventry, approximately 2 hour drive from London via M40.