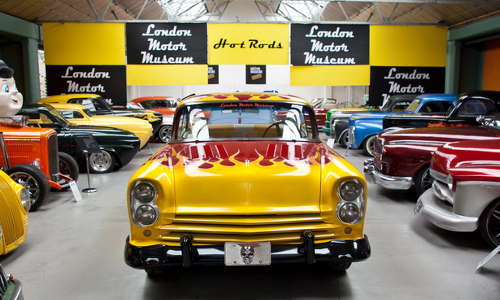 London Motor Museum
The London Motor Museum is home to a spectacular collection of cars - both classic and contemporary but it also houses a fantastic collection of custom cars which, according to many, is the finest in Europe. In addition to being displayed for public viewing, many masterpieces from the Museum's collection are also available for hire which has been taken advantage by many celebrities and show business people for music videos, TV shows, fashion shots and a wide range of other events.
History of the Museum
The Museum was started by the former model and fashion designer, and automotive enthusiast Elo. When he launched the Museum in 2001, Elo had a collection of just 7 cars. By 2005, the collection grew to 30 and Elo moved the Museum to North Acton. Shortly thereafter, the Museum moved again to be able to accommodate more cars. It finally relocated to its current site in Hayes in 2007. In the meanwhile, the car collection continued to grow. And is still growing!
The Collection
The collection of the London Motor Museum is absolutely stunning. It consists of approximately 200 cars which include a rare collection with some of the finest American and European classics. Visitors of the Museum can also admire a fantastic collection of movie cars which include some of the most famous vehicles such as the DMC DeLorean, Mr Bean's Mini, Gran Torino that appeared in Starsky and Hutch and Lotus Espirit from the 1977 James Bond: The Spy Who Loved Me. There is also the so-called Bat Cave which houses Batmobile from the 1960s TV series featuring Adam West and Batman's vehicle from the 1989 movie featuring Michael Keaton. Then there is also a section dedicated to super cars and the so-called Muscle Car Alley which is home to what is considered as one of the most comprehensive collections of V8 American muscle cars in Britain.
Other Attractions to See and Things to Do
The London Motor Museum also enables its visitors to have a glimpse to car customisation in The Supercar Workshop, refresh themselves and have a snack at the Museum's cafe, learn more about automotive industry and watch movies featuring some of the most famous cars in the cinema room, childrens play room with ride on toys, bikes and more.
Opening Times and Admission
The Museum can be visited daily from 10am to 6pm throughout the year with the exception of Christmas Day when they are closed. The admission is £30 for adults and £20 for children but you can get a 25% discount by buying the tickets online.
Location
The London Motor Museum is situated in Haynes about a half an hour drive from the city centre.