Haynes International Motor Museum
The Haynes International Motor Museum in Sparkford is home to the largest exhibition of motor vehicles in the UK. Its collection consists of over 400 cars and motorcycles from all over the planet, and includes everything from the very first motorised vehicles such as the 1898 Daimler Wagonette and the 1950s classics to super cars and other legendary vehicles until the end of the 20th century.
History of the Museum
The Museum was founded in the mid-1980s by John Haynes, the owner of the Haynes Publishing Group (known for the Haynes Owner's Workshop Manuals, a very popular manual series with both DIYers and professional mechanics as it focuses on how to keep motor vehicles in top condition and repair the most common problems/failures). The Museum has been run as a registered Educational Charitable Trust ever since.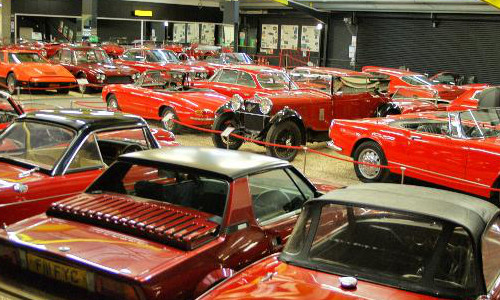 The Collection
The collection of the Haynes International Motor Museum is truly amazing. It consists of more than 400 vehicles - but not just any vehicles. Displayed in 10 halls, the Museum's collection includes some of the most spectacular cars and motorcycles ever built - from 1885 to virtually the present day. The so-called Dawn of Motoring hall houses the earliest prototypes and models of modern car and motorcycles, the Red Room is home to some 50 red sports cars from the mid-1950s onwards, the International Hall provides a unique insight into the so-called cosmopolitan style vehicles,…
Visit to the Museum and its outstanding collection of cars and motorcycles really offers a one-of-a-kind experience for automotive enthusiasts and car lovers as well as all who appreciate the beauty of historic vehicles and their engineering excellence.
Other Collections and Highlights
In addition to the impressive collection of cars and motorcycles that are housed in 10 halls inside the Museum (but are periodically driven to keep them in working condition), there is also the outdoor collection of military vehicles, themed Adventure playground for kids, cinema, shop & cafe, archive & library, and various special events for all tastes and ages.
Opening Times and Admission
The Haynes International Motor Museum is open all year round but during low season (1st November to 1st March), it is open from 9:30am to 4:30pm. During high season (2nd March to 31st October), it is open one hour longer. Admission is £13.95 for adults and £8.25 for children. Family tickets range from £20 (one adult and one child) to £44 (2 adults and 2 or more children).
Location
The Museum is located in Sparkford (near Yeovil) in Somerset, about 2 1/2 hour drive from London.