Heritage Motor Centre
The Heritage Motor Centre is one of the best places in the UK to see and enjoy classic cars. The museum and research centre has a collection of approximately 300 vehicles and according to many, one of the finest collections of British made cars in the world. Indeed, the collection largely consists of domestic vehicles but in the recent years, it was also added cars by companies with manufacturing facilities in Britain.
History of the Museum
The Museum traces its history back to the 1970s when the British Leyland Motor Corporation set up a department to look after historic vehicles of individual Leyland companies. In addition to cars, the department also took over archives and other related automobilia. By the end of the 1970s, the department became a self-funding body and in the early 1980s, it was granted a charitable trust status and renamed as the British Motor Industry Heritage Trust. At the same time, its collection of cars and related items continued to grow. To find a suitable place to keep the collection safe and enable public access at the same time, it was decided to put much of the collection on display at Syon Park in London. The rest was housed at Studley, Warwickshire.
Today's Heritage Motor Centre opened its doors only in 1993 when the entire collection of the British Motor Industry Heritage Trust was finally put under the same roof. Between 2006 and 2007, the museum building went through a refurbishment to improve visitor experience and make visit to the museum even more enjoyable.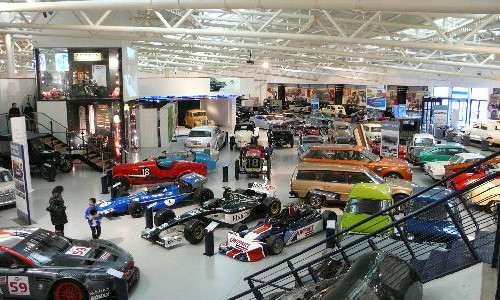 The Collection
The Heritage Motor Centre's collection is dominated by British automotive brands such as Morris, Austin, Mini, Rover, Land Rover, MG, Triumph, Aston Martin, Bentley, etc. But there are also quite many non-British brands, most notably Ford, Honda and Toyota. About one half of all cars are displayed in the museum building.
Other Automobilia and Highlights
In addition to a spectacular car collection, the Heritage Motor Centre also has a rich archive and collection of other automobilia, while the museum grounds is a host to a variety of special events such as Classic & Vintage Commercial Show, BMW Festival and Retro Truck Show, to mention only a few.
Opening Times and Admission
The Heritage Motor Centre is open all year round with the exception of the week from 24th December to 1st January. The collection can be visited 7 days a week from 10am to 5pm. The admission is £12 for adults and £8 for children.
Location
The museum and research centre is located in Gaydon in Warwickshire, about 1 3/4 hour from London via M40.