Lakeland Motor Museum
The Lakeland Motor Museum is one of the most popular and visited motor museums in this part of the UK, if not in the entire country. Launched as a side attraction of the Holker Hall country house at Cartmel, the Museum soon became an attraction of its own and eventually grew into one of the UK's top motor museums.
History of the Museum
The Museum was started by Donald Sidebottom in Grange-over-Sands in the late 1970s. Conceived as a side attraction of another attraction - the Holker Hall, the Museum and its collection have evolved around Sidebottom's private collection of cars and automobilia. Over the following years, the collection grew dramatically and with it, the number of visitors. In 2010 - after more than three decades - the Museum finally moved to its current site at Backbarrow.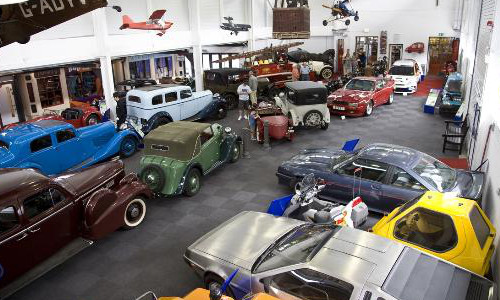 The Collection
The collection of the Lakeland Motor Museum consists of approximately 30,000 pieces which besides the most iconic cars and the most impressive classics also include a variety of related collectibles and memorabilia as well as motorcycles and scooters. The Museum also includes a 1920s garage (a re-creation), 1950s cafe, pedal cars, exhibition of Leven Valley history and heritage, and more.
The Museum also features a special exhibition about Sir Malcolm (1885-1948) and his son Donald Malcolm Campbell (1921-1967), speed record breakers using cars on both land and water in the interwar and postwar period, respectively. Among other historic vehicles and automobilia, visitors of the Museum can also see the famous Bluebird replicas of the 1930s car and boat as well as Bluebird K7 hydroplane with which Donald Campbell managed to break as many as 7 water speed records in the postwar period.
Other Attractions
Visitors of the Lakeland Motor Museum can also visit England's largest natural lake - Windermere and the heritage railway of Lakeside and Haverthwaite Railway. If you are interested in Windermere lake cruise or a ride on the Lakeside and Haverthwaite Railway, or both, ask for tickets that also include visit to these attractions.
Opening Times and Admission
The Lakeland Motor Museum is open daily from 9:30am to 4:30pm. Year round (with the exception of Christmas Day)! Admission for the Museum only is £8 for adults and £5 for children. Family ticket (2 adults + up to 3 children) is £23.
Location
The Museum is located in Backbarrow in Cumbria, about 280 miles from London.