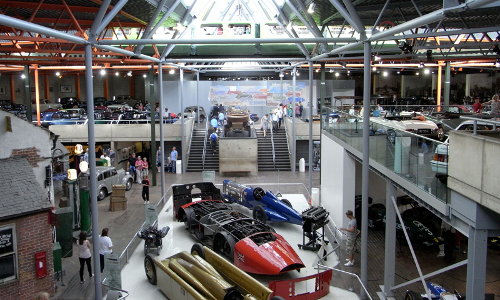 National Motor Museum, Beaulieu
The National Motor Museum in Beaulieu is one of the most famous and most visited motor museums in the UK. This is partly due to its spectacular collection of cars and other vehicles but it is partly also due to the museum grounds and nearby attractions which provide a full day of fun activities and entertainment for all ages and interests.
History of the Museum
History of the National Motor Museum dates back to the 1950s when Edward Douglas-Scott Montagu, 3rd Baron Montagu of Beaulieu decided to exhibit five cars and some automobilia in the Palace House to honour his father and motoring pioneer John Douglas-Scott Montagu, 2nd Baron Montagu of Beaulieu (1866-1926). Even though Lord Montagu's Museum displayed only 5 cars, it immediately attracted huge crowds. It soon had to move to a new location to accommodate both the growing number of visitors and the number of cars on display. Soon, however, this location became too small as well. In the mid-1960s, it was decided to build the current museum building which was completed in 1972. At the same time, the museum was also designated as a charitable trust and renamed as the National Motor Museum.
The Collection
The collection of the National Motor Museum in Beaulieu is one of the most impressive collections of cars and automobilia in the UK. It consists of approximately 250 cars and other motor vehicles, with the oldest models dating back as far as the mid-19th century. But it also features a very impressive collection of other automobilia including motoring photographs, books, films and more.
Other Attractions and Things to See and Do at the Museum
When buying a ticket for the National Motor Museum, buyers also get access to the Palace House and Gardens, the Beaulieu Abbey, the World of Top Gear, The Secret Army Exhibition, and unlimited ride on the veteran bus and Beaulieu Monorail. The later links the Museum and Palace House; it even goes through the Museum so that the passengers can admire the car collection from above.
Opening Times and Admission
The Museum is open every day with the exception of Christmas Day. During high season (28th May to 30th September), it is open from 10am to 6pm. During low season (1st October to 17th March) it closes one hour earlier.
The admission is £24 for adults and £12 for children but there is a discount for tickets bought online (through the Museum's official website).
Location
The National Motor Museum is located in the village of Beaulieu in Hampshire, about 2 hour drive from London.